Last weekend, I was playing with the dyes and yarn, with a whole new colorway as a result: Grass Stained Jeans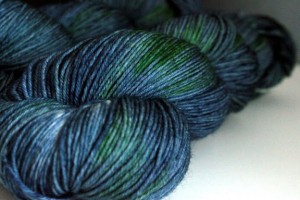 I love these colors. The jeans blue is a little variegated, and the streaks of green complement the blue well. This skein would be perfect for small shawl projects like the Graphic Kerchief by The Uncommon Thread, or the Hitchhiker shawlette that thousands have knitted. It would also be perfect together with a more solid yarn in a stripey shawl.
I will most definitely try to repeat this color!