Have you seen my newest pattern – Brighton Beach?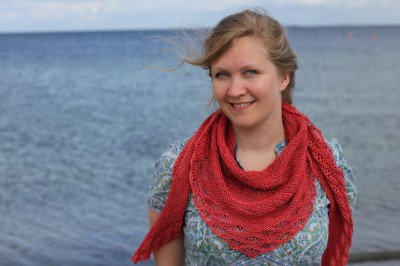 I submitted this design to the design competition for Unwind Brighton – sadly I didn't win, but that just means I could publish it myself! ;)
Knitted in one single skein of Walkcollection Luxe Fingering, this shawlette is a fun knit – you start by casting on all the stitches needed for the width, and then you decrease on every row until you reach the center point. The rows keep getting shorter, and the foamy/scallopy lace pattern along the edge keeps it interesting.
Isn't this perfect for a quick summer knit?
The pattern will be sold in kits (yarn + pattern) from Walkcollection at Unwind Brighton on July 12-13, where you will be able to get your hands on a hard copy. I'm ridiculously excited about those hard copies, it's the first time I had a pattern printed!
If you can't make it to Unwind, or you'd like to get your hands on the pattern before then, you can buy it on Ravelry here.
Also, there is a knitalong in the Knitter's Kitchen | DVM designs group on Ravelry. Come join, and win a prize!