I don't do a lot of dyeing, but once in a while I very much enjoy playing around with yarn and dyes. Hence the name – Knitter's Kitchen :)
Today, I want to tell you a dyeing story.
So, I was persuaded to join a KAL (knit-along) in the Joji Knits group on Ravelry, where you could join with any of the patterns Joji Locatelli has designed. My reasons for participating were (among others) these:
I met Joji at Unwind Brighton 1½ months ago. She is so nice!
Joji designs some really cool stuff.
I had my eyes on the Grandpa Cardigan ever since it came out.
I saw a gorgeous gorgeous blue when someone else had swatched – according to that person the blue did not come out right on the photos, but for me it was the perfect color!
At Unwind, I had bought 5 skeins of undyed yarn from undyedyarn.com, a lovely DK weight Polwarth.
I'm pretty ambitious at times.
So I decided to go ahead and try to make that blue I wanted myself, instead of going yarn shopping to find it.
I had an idea of which colors were needed to make this particular blue (with a sea green/petrol/dark turquoise aura), so I mixed everything together and put the 5 skeins of yarn in the pot. My mistake? Thinking that hey, it needed to have a hint of sea green, I should add a little bit of yellow.
I should so not have done that!
My yarn turned out very green. Thinking to remedy it with more blue, in the end I ended up with 5 skeins of very dark green with a blue-ish aura. Very pretty, but so very much NOT what I wanted!
Having used all my DK weight skeins, I would have to either order more, or live with the green. Being stubborn, I ordered more.
Before the second attempt, I thought to try out my "new" recipe on a couple of skeins of fingering weight yarn, just to check if I was more right this time. And I was, the color was perfect! So in we went with 5 more skeins of DK weight yarn, and out came the most gorgeous blue on a squishy DK Polwarth yarn.
I was happy, and couldn't resist the yarn sitting there waiting for me to finish something else first, so I cast on for the Grandpa Sweater (and #jojifallkal2014) almost immediately.
And that's the happy ending, right?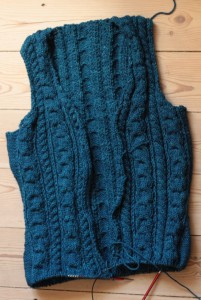 After using 2½ skeins, I started faltering. If it continued at this rate, the 5 skeins I had wouldn't be enough! I know the pattern had called for 6 skeins for the size I'm making, but always-gambling-me was too lazy to crack open another 5-pack of yarns (I was so foreseeing to buy more than 5 skeins for the second round!).
What to do?
Dye some more, of course! :D
I followed the exact same recipe on two more skeins of yarn (of course adjusting the amount of dye to the amount of yarn). Now, the yarn being entirely dry, I am happy to report that once again, I DID IT! :D :D :D
The final test comes once I get to the point where I start knitting with it. Keeping in mind that hand dyed yarns always have some level of variation, I will be alternating between skeins anyway – but I believe in it.