In October last year, I watched an episode of season 5 of Downton Abbey in which Lady Edith was wearing a sweater which I immediately fell in love with. I didn't find many good images of it, so I took some screen shots, and decided this should be possible to deconstruct. There was some feather & fan lace, no real shaping, drop shoulder sleeves… Couldn't be that hard, right?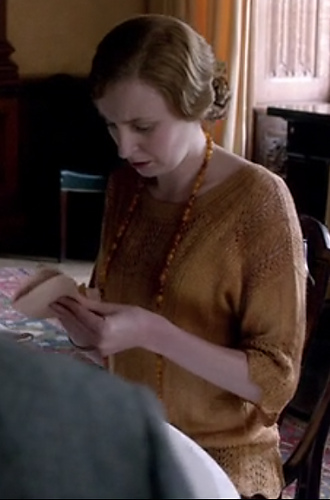 I did a lot of calculating, ending up with something which looks a lot like it, but not really being identical. Regardless, I am in love with this one!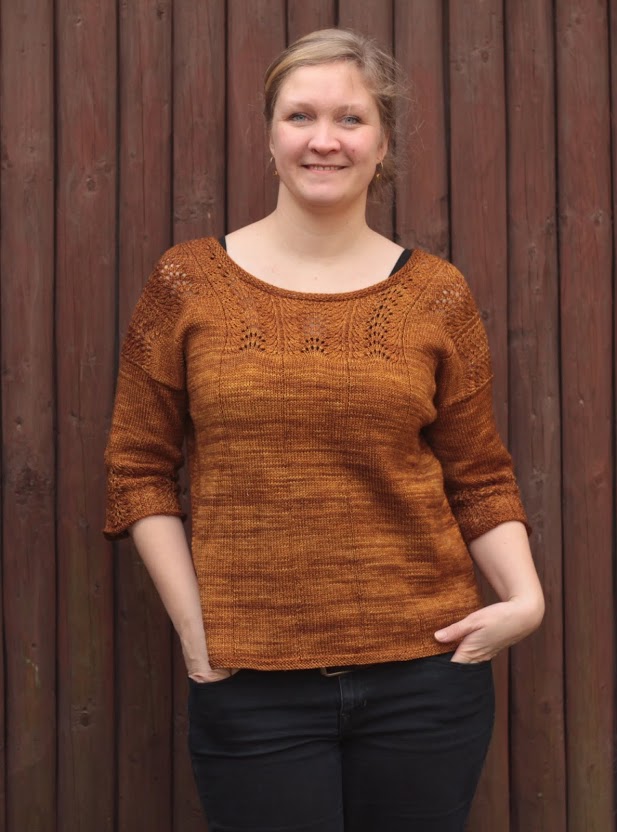 It is the perfect garment for when you want to dress up a bit, but at the same time can act as casual wear. Being someone who tends to fall into that last category a lot, the former option is great, as it just depends on what I combine it with.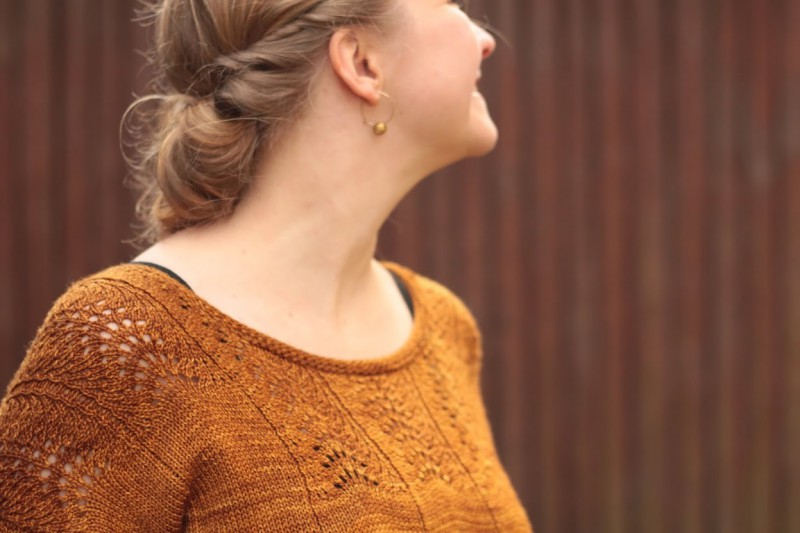 The yarn (Madelinetosh Tosh Sock) combined with the color (Glazed Pecan) made for a very enjoyable knit, as I kind of drooled over it – and the sweater itself consists of good stretches of stockinette stitch with the feather & fan lace portions spicing it up a bit.
The body is worked flat from front to back, dividing the work in two when reaching the neck opening. After knitting the shoulders, the two halves are combined again when casting on stitches for the back of the neck.
The sides are seamed using mattress stitch – the side seams are almost invisible, as they look like yet another little purl ridge like the ones in the stockinette body. Stitches are picked up along the armholes and the sleeves are worked top down, ending with a delicious little bit of lace.
To finish it off, stitches are picked up along the neckline and a couple of rounds are worked in garter stitch to give a neat edge. The feather & fan lace pattern helps shaping the neckline.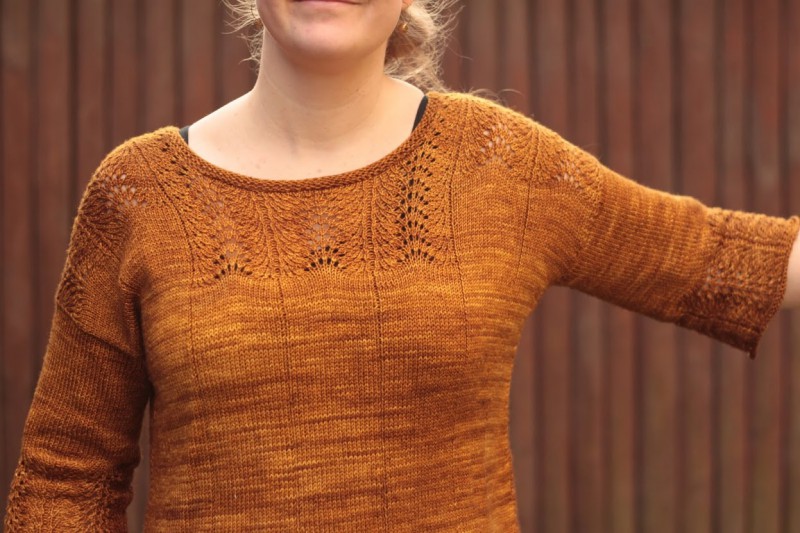 Do you want to join in knitting this one?
It's for sale right now – and until end of day March 16th (Copenhagen time), all Ravelry purchases of the pattern are 25% off if you use the code "FAN-TASTIC" (no quotes) upon checkout.
Furthermore, if you're attending Edinburgh Yarn Festival this weekend, keep an eye out for me. I will be wearing this one on Sunday, and if you spot me and say hello, I'll be happy to give you a coupon code for a free download of this pattern! I'm so very much looking forward to the festival!
Take a look at the Ravelry pattern page for Feather & Fan-tastic, or you can directly buy the pattern right here.