Ever since I discovered the KnitPro interchangeable needle series around 6 years ago, I've been a KP girl. I tried out a variety of their needles – wood, acrylic, metal, cubics, karbonz. The metal ones always were my favorites, though Karbonz were a close contender. However, the Karbonz did end up annoying me as much as I liked them, with needle tips coming loose and, with my most recent (pretty big!) order, needle tips and cables not always fitting. Over the past 6 months, I have been considering changing to a completely different brand – at least try it out, but perhaps change over for good.
Please don't misunderstand me, I have enjoyed the KP metal needles immensely for 6 years, so I am by no means trashing them. I have just gotten curious about other brands, and may have found the KP's wanting on a couple of features. What I still very much like about them is the stiffness of the cable, the sharp tips, and the ease with which you can change between different tips. The metal ones will still be in my tool collection, right until I completely wear them out or if another deserving knitter inherits them.
In the summer of 2014, I bought my first Signature needles. I was absolutely in love! I loved the aluminium that warms up in your hands quickly, the sharpness of the tips, the swivel join, and initially the soft cables. And a separate size cable for each needle size makes the join pretty seamless and comfortable.
Using them more, however, I have also discovered some weaknesses. The cable, mainly. With my tendency to just chuck any project in my bag before I leave the house, the cable gets scrunched up in the bag. It has tons of memory, so getting the project out everything can be a bit hard to work with for the first couple of minutes. Also, it's not that handy for magic loop working, which I do a lot – with the cable being so soft, it's not so easy to push through. And then, well… Additional cables costs a lot of money. They're around 3-4 times the cost of the KP ones, and then you can only use them with one tip size. I have only bought one extra cable, for the 4 mm size needles, but it feels like I could just as well have bought a full fixed circular needle instead.
Still, I LOVE them. The needles themselves are awesome, and for a non-portable project which doesn't require magic looping, they're absolutely great.
Recently, my friends and I put in a big order for ChiaoGoo needles. The reason being that we have created our own sock club this year: One pair of socks each month, with yarn from stash. The rule is we just need to cast on, basically – so we were joking a bit that at the end of the year, we'll each have 12 unfinished pairs of socks, still on the needles. That prompted an urge to buy more needles, of course! ChiaoGoo needles being our latest obsession for sock knitting, we all started wishing for those. A huge order for needles of all sizes was put in, mainly 2,25 mm (US 1), but also the numbers around that. And a couple of us wanted other sizes, just to try!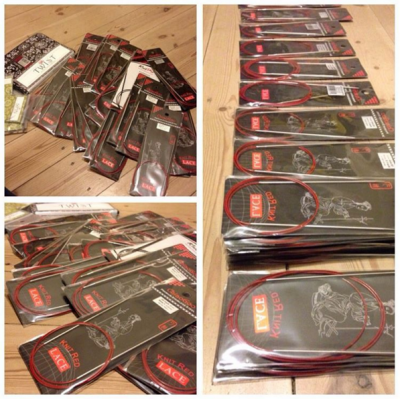 Having gotten some money as a present a short while ago, I thought this the perfect opportunity to try out the ChiaoGoo Twist interchangeables. Metal tips, the nice stiff red wire (perfect for magic looping and socks! Just make sure not to whack yourself in the face with them, that happens…), and an opportunity to also buy the ChiaoGoo Spin wires from their interchangeable bamboo range, which have swivel joins.
So I also threw the ChiaoGoo Twist small set in my virtual shopping basket.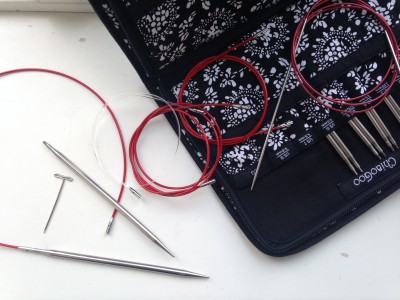 "The small set" basically means it only contains the small sizes: 2,75 – 5 mm / US 2 -8 (3 mm / US 2.5 is missing though, which I found a bit puzzling…). The bigger set consists of sizes 5,5 – 10 mm / US 9-15.
ChiaoGoo has taken the consequence of the wires and joins issue, and divided the small/large set by two cable join sizes. The small set has a small cable join, the big set a bigger one. This makes sense to me – I would need a bigger join for a bigger needle if it needs to work alright with the needle thickness. In the set, 3 wires are included, one of each of the (I guess) most used lengths: 35 cm, 55 cm, and 75 cm (14″, 22″, and 30″). That's the cable length itself – adding the tips, it adds approximately 13 cm to the length at either end. That makes for a final length of 60 cm, 80 cm, and 100 cm – exactly the wire lengths I use the most of.
I bought 2 each of each wire length, but from the Spin Bamboo range. That's their interchangeable range with bamboo tips instead of metal tips, which have swivel joins on the cables and softer, see through cables. You can just about glimpse one there in the photo above!
The verdict?
Of course, I LOVE them! But not unconditionally.
I love the stiffness of the Red Twist cables, and I like the sturdy appearance given by the join with the tips. For some reason they seem more sturdy than the KP's – I wonder if that has something to do with the opposite join (you stick the needle into the join on the cable, while on KP's you do it the other way around)? Or have they just paid more attention to detail? In any case, I like it. It's also easier to tighten the join between tip and cable for some reason, even though it happens with a tightening key just like with the KP's.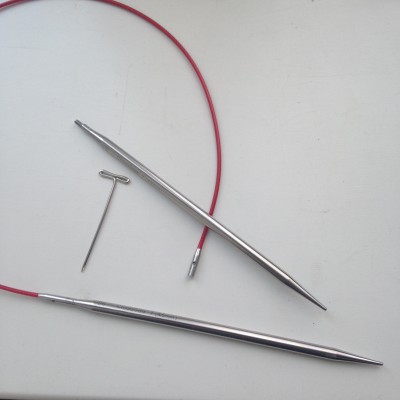 The Spin cables however, I'm not sure I'm a fan of. They are a lot softer (they don't have that metal core), and give a slightly fragile appearance. Despite the swivel join that I like a lot, and which would resist my twisting and turning of hands while I knit, I'm not entirely convinced that they will last super long.
(I have an annoying tendency to twist the needles in my hands while knitting – probably because I'm subconsciously trying to tighten the join all the time. On my convertible KnitPro needles, the join comes undone quite quickly. I discovered this while trying out KP Cubics, which turned out to be very uncomfortable due to that particular habit!)
Another little note: Only 2 cable stoppers were included in the set, and additional cable stoppers need to be purchased separately. The KP cables all have 2 cable stoppers in the package, which is pretty handy – you'll have stoppers for all your cables! That's not the case with CG though, so I will need to get a hold of some of those. A ton of cables doesn't really make sense to me if I can't just snatch the needles and secure the project before I move on, like I am used to doing.
I will be trying them out more, knit some more projects on these. Meanwhile, I will most likely only be doing one project at the time on a particular size CG needle, due to the lack of cable stoppers. Good thing I still have my KP's and Sigs handy ;)