Here is my favorite recipe for pebernødder / pepernoten / pfeffernüsse – a Danish / Dutch / German traditional cookie that appears around Christmas time. My recipe is based on several others, perfecting it over many batches. The main thing is that it contains a bit more pepper than usual, as I really like that – they make them a little bit more spicy. I hope you enjoy it too!
(oh, and excuse the pictures with bad lighting – that's all I can manage when only baking during the evenings when it's dark outside ;))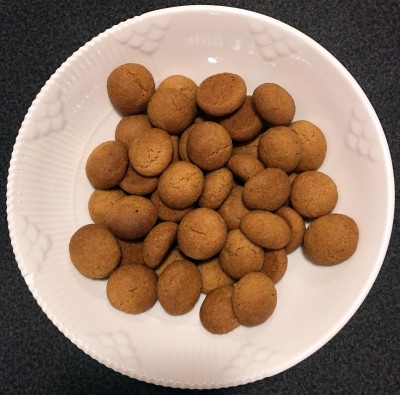 Recipe for Pebernødder
Approximately 3 oven trays (of the Danish kind in size – that's a bit larger than for instance American baking trays)
Ingredients:
125 grams softened butter
60 grams muscovado/brown sugar
65 grams of white sugar/cane sugar
0,5 dl cream
250 grams wheat flour
½ teaspoon baking soda
½ teaspoon baking powder
2,5 teaspoons spice mix (see to the right)
for a less spicy batch, suffice with 1,5 or 2 teaspoons!
Spice mix:
1 part ground ginger
1 part ground cinnamon
1 part ground cardamom
1,5 parts ground black pepper
Whip the butter with the sugar until fluffy and well mixed. Add the cream, stir well.
Mix all the dry ingredients in a separate bowl. Add them to the butter mixture and knead the dough until everything is mixed well.
Roll the dough to sausages of approximately 1,5 cm / 0.75 inches in diameter. Cut into pieces of around 1 cm / 0.5 inches, and roll each piece into a rough ball.
Place the little balls on a baking tray lined with paper. Make sure to keep them apart a bit, as they will grow!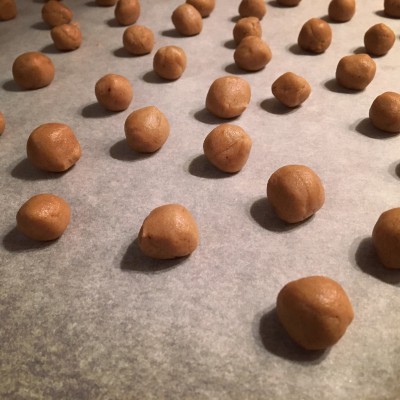 Bake for 9-11 mins at 190 degrees Celsius / 370 degrees Fahrenheit. Keep an eye on them not getting too dark!
Let cool on a rack. They will be a bit soft when coming right out of the oven, but don't despair – after a couple of minutes they will harden up!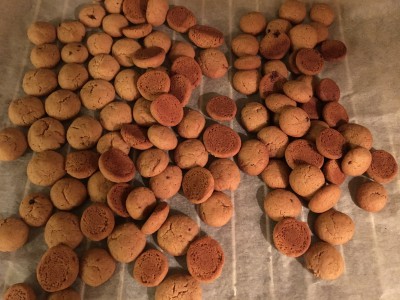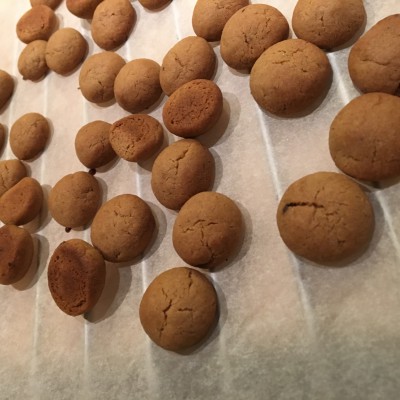 This is how they look in all their yumminess. Beware that they disappear fast – it may be needed to make a double batch straight away!
Luckily they're relatively quick to make :)